JOIN ME ON A 'POLAR BEAR SPECIAL' TO SVALBARD (SPITSBERGEN)
17TH JUNE - 24TH JUNE 2020
Your best opportunity to spot the king of the High Arctic: the POLAR BEAR !
JOIN ME ON THIS INCREDIBLE ONCE-IN-A-LIFETIME EXPERIENCE
— AN EXTREME AND AMAZING PHOTOGRAPHY DESTINATION
WITH STUNNING WILDLIFE, FOCUSSING ON POLAR BEARS —
North Spitsbergen, In search of Polar Bears & Pack Ice
Svalbard (Spitsbergen) is a Norwegian archipelago between mainland Norway and the North Pole. One of the world's northernmost inhabited areas, it's known for its rugged, remote terrain of glaciers and frozen tundra sheltering polar bears, Svalbard reindeer and Arctic foxes. The Northern Lights are visible during winter, and summer brings the "midnight sun"—sunlight 24 hours a day. For a long time the poles symbolised a pure, untouched world. A world hostile to humans, with temperatures that go deep below zero. Unknown, vast, inhospitable areas where storms roamed the plains and which killed many polar explorers and researchers.
TRAVEL WITH ME !

During this adventure, I will share my secrets and key elements for producing great images:
Composition

Light

Subject

Timing

Tips and tricks on the field
As we observe and absorb one of the wildest and purest places left on earth, I will guide you through the technical aspects of photography. Helping you understand your camera and settings according to your technical level.

The typical areas that we discuss will be the exposure triangle of f-stop, ISO and shutter speed, but also I can help with:
Tips on photographing wildlife

Composition and how to find unique angles

Understanding light and how it can impact on the mood of the image

The key technical elements (focus, exposure, histogram, lenses, tripod, and of course filters)

Dedicated time to slow down and think more carefully about taking fewer but better quality images
Yes, this picture could be yours! Join me on an epic quest in the Arctic.
ITINERARY

Longyearbyen
Start your North Spitsbergen cruise with a trek around historic Longyearbyen, then join our expedition to the north of the island to take in the fantastically beautiful landscapes, the thousands of seabirds, and of course the star of the show, the polar bear.
Day 1: Largest town, biggest island
You touch down in Longyearbyen, the administrative center of Spitsbergen, the largest island of the Svalbard archipelago. Enjoy strolling around this former mining town. We can visit the northernmost church on the planet and the Svalbard Museum, all fascinating attractions. In the early evening the ship sails out of Isfjorden, where you might spot the first minke whale of your voyage.
Day 2: Route to Raudfjorden
Sailing to Raudfjorden, on the north coast of Spitsbergen, you can enjoy the fjord with astonishing glaciers – and maybe even be surrounded by ringed and bearded seals. The cliffs and shoreline of this fjord also support thriving seabird colonies, rich vegetation, and the possibility of polar bears.
Day 3: The massive Monaco Glacier
Depending on the weather, you could sail into Liefdefjorden and cruise within sight of the 5-kilometer-long (3.1 miles) face of the precipitous Monaco Glacier. The waters in front of this glacier are a favorite feeding spot for thousands of kittiwakes, and the base of the ice is a popular polar bear hunting ground. If ice conditions prevent sailing here early in the season, an alternate route along the west coast of Spitsbergen can be implemented.
Day 4: Highlights of Hinlopen
Today you sail into Hinlopen Strait, home to bearded seals, ringed seals, and polar bears. At the entrance there is even the possibility to spot blue whales.
After cruising among the ice floes of Lomfjordshalvøya in the Zodiacs, you can see the bird cliffs of Alkefjellet with their thousands of Brünnich's guillemots. On the east side of Hinlopen Strait, we will attempt a landing on Nordaustlandet. Here reindeer, pink-footed geese, and walruses are possible sights. You can take an alternate route if ice prevents entry into Hinlopen.
Day 5: Stop at the Seven Islands
The northernmost point of your voyage may be north of Nordaustlandet, in the Seven Islands. Here you reach 80° north, just 870 km (540 miles) from the geographic North Pole! Polar bears inhabit this region, so the ship may park for several hours among the pack ice before wheeling around west again.
Day 6: Sailing the continental shelf
While retracing your route west, keep watch for polar bears and elusive Greenland (bowhead) whales. About 40 nautical miles west of Spitsbergen, you sail round the edge of the continental shelf. Here fin whales forage during the summer in the upwelling zones (where cold, nutrient-rich water wells up from below the sea's surface) that run along the Spitsbergen banks. At the mouth of Kongsfjorden, you have a good chance of spotting minke whales.
Day 7: Reindeer, foxes, and so many seabirds
Walruses haul out (move onshore) in Forlandsundet, your next stop. Alternatively, you might sail into St. Johns Fjord or south to the mouth of Isfjorden, landing at Alkhornet. Seabirds nest on these cliffs, Arctic foxes search below for fallen eggs and chicks, and reindeer graze the sparse vegetation. You arrive in Longyearbyen later at night.
Day 8: There and back again
Every adventure, no matter how fantastic, must eventually come to an end. You disembark in Longyearbyen, taking home memories that will accompany you wherever your next adventure lies.
PRACTICAL INFORMATION
Age and Nationality
Passengers on a typical voyage range from their 30s to their 80s - with a majority usually from 45 - 65. Our expeditions attract independent-minded travellers from around the world. They are characterised by a strong interest in exploring remote regions. The camaraderie and spirit that develops aboard is an important part of the expedition experience. Many departures have several nationalities on board.


Dress code
In keeping with our expedition's atmosphere, dress on board is informal. Bring casual and comfortable clothing for all activities. Keep in mind that much of the spectacular scenery can be appreciated from deck, which can be slippery. Bring sturdy shoes with no-slip soles and make sure the parka is never far away in case of the call "Whales!" comes over the loudspeaker and you have to dash outside. Wear layers since it is comfortably warm aboard the ship - and often cold on deck.


Currency & payment
Refreshments from the bar and souvenirs will be charged to your cabin. The day before departure you can settle your bill with the Hotel Manager and pay by credit card (Visa or MasterCard) or cash (Euro or Dollar). We do not accept cheques of any kind. The prices and standard currency on board is the Euro. Other currencies may be accepted at the discretion of the hotel manager at prevailing rates.


Electric current
The electrical supply aboard the ship is 220v, 60Hz. Electrical outlets are standard European with two thick round pins. You may need a 220v/110v converter.


Your physical condition
You must be in good general health and you should be able to walk several hours per day. The expedition is ship-based and physically not very demanding. Although we spend as much time as possible ashore, you are welcome to remain aboard the ship if you like. To join most excursions, you must be able to get up and down the steep gangway from the ship to the water level to board the Zodiacs. Staff will assist you in and out of the boats. This will become progressively easier with practice. Ashore it can be slippery and rocky. You are travelling in remote areas without access to sophisticated medical facilities, so you must not join this expedition if you have a life-threatening condition, or need daily medical treatment.


Ship information
The ice-strengthened vessel Plancius is ideal for polar expedition cruises in the Arctic. Click here for more information about the ship.
PLEASE NOTE: All itineraries are for guidance only. Programs may vary depending on ice, weather, and wildlife conditions. The on-board expedition leader determines the final itinerary. Average cruising speed for m/v Plancius is 10,5 knots (20 km/h).
In cooperation with INEZIA TOURS.
CABINS & PRICES
Quadruple Porthole
For a berth in a Quadruple cabin : € 3.450,- per person
Quadruple Porthole:
1 porthole

2 upper & lower berths

Private shower & toilet

Desk & chair

Flatscreen TV

Telephone & WiFi (supplemented)

Hair dryer

Ample storage space

This cabin is suitable for families traveling with children, or passengers who do not require a twin or more luxurious cabin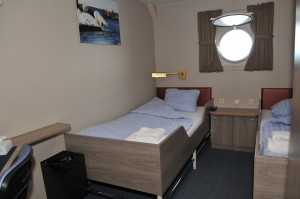 For a berth in a Twin porthole : € 4.800,- per person
Twin Porthole:
1 porthole

2 lower berths

Private shower & toilet

Desk & chair

Flatscreen TV

Telephone & WiFi (supplemented)

Hair dryer

Ample storage space
For a berth in a Twin window : € 5.200,- per person
Twin Window:
1 window

2 lower berths

Private shower & toilet

Desk & chair

Flatscreen TV

Telephone & WiFi (supplemented)

Hair dryer

Ample storage space
For a berth in a Superior cabin : € 6.250,- per person
Superior:
2 windows

1 double bed

1 sofa bed

Private shower & toilet

Desk & chair

Flatscreen TV

Telephone & WiFi (supplemented)

Refrigerator

Coffee & tea maker

Hair dryer

Ample storage space
Included in this voyage
All meals throughout the voyage aboard the ship including snacks, coffee and tea.

All shore excursions and activities throughout the voyage by Zodiac.

Program of lectures by noted naturalists and leadership by experienced expedition staff and myself.

Free use of rubber boots and snowshoes.

Transfers and baggage handling between the airport, hotels and ship only for those passengers on the group flights to and from Longyearbyen.

All miscellaneous service taxes and port charges throughout the programme.

AECO fees and governmental taxes.

Comprehensive pre-departure material.
Excluded from this voyage
Any airfare, whether on scheduled or charter flights

Pre- and post- land arrangements. Contact me if you want to join me for a couple of days extra, we'll have some fun!

Passport and visa expenses (if applicable)

Meals ashore.

Baggage, cancellation and personal insurance (which is mandatory).

Excess baggage charges and all items of a personal nature such as laundry, bar, beverage charges and telecommunication charges.

The customary gratuity at the end of the voyages for stewards and other service personnel aboard (guidelines will be provided).

15 € booking fee + 15 € customer attribution to GGTO (Guarantee Fund for Specialised Tour Operators).
BOOKING INFORMATION
Dates: June 17th - June 24th , 2020 (these dates count only for the expedition on the ship. You can also join me on the extended tour. Contact me for more information.)

Payment: Prices start at €3.450,- based on a quadruple cabin (excluding flights). After returning the booking form to info@clauwers.com, your place aboard is guaranteed!

Arrival: Longyearbyen (LYR), June 17th, no later than 11am. There is a possibility to join me on an extended tour to see some of the remote, abandoned, and in one case an active mining town(s). We will go into Russian territory, without the need for a visa. Contact me for more information so we can make it fit in your flight/travel schedule.

Departure: Longyearbyen (LYR), June 24th, after 6 pm, and preferably the day after. Let me know your flight schedule as soon as you are booking your flights.
JOIN ME ON THIS INCREDIBLE ADVENTURE !
IF YOU HAVE ANY FURTHER QUESTIONS OR NEED MORE INFORMATION, DON'T HESITATE TO CONTACT ME :
FOLLOW ME ON SOCIAL MEDIA
© 2019 Christian Clauwers | All Rights Reserved.